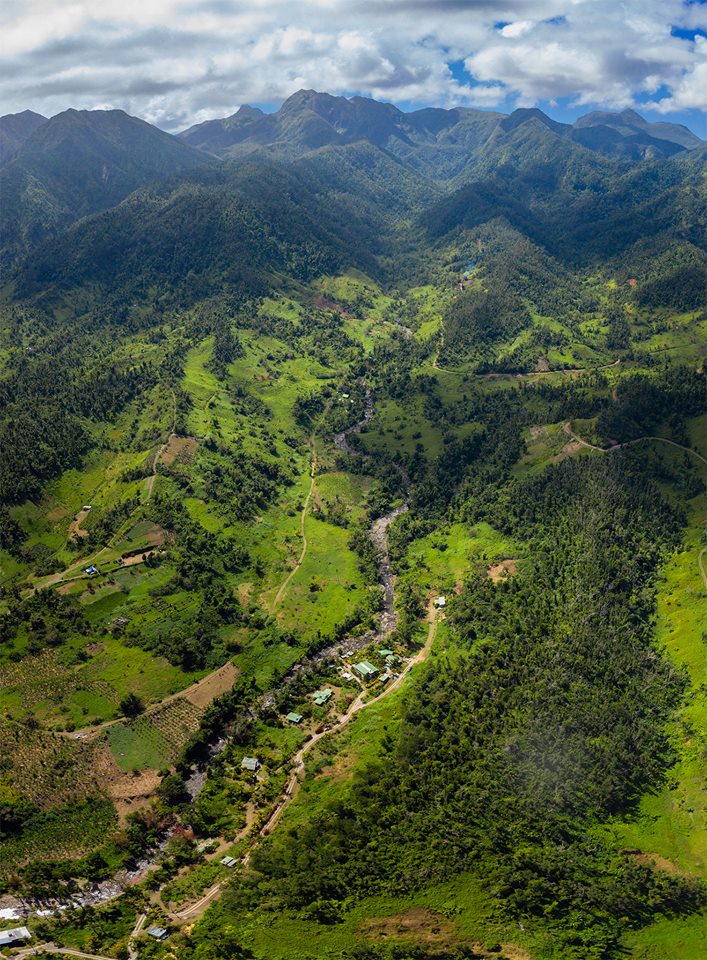 Citrus Creek Plantation: a 20 acres riverside tropical plantation becoming a food forest.
N.15°.20′.34″.         W. 061°.14′.55″.  Southeast coast of Dominica.
A sustainable eco village developed by a French team in an old tropical plantation . One of the largest lodges in Dominica ( 20 Acres ) because space is what matters.
With time, patience, and determination we are transforming this valley into a food forest, following the principles of organic Agro-forestry.
Lots, Cottages and Villas for sale – and then all for rent-  in a protected and fertile valley alongside the Taberi river on the East (wild) Coast of the Nature island of the Caribbean: Dominica.
Cottages and villas are then inserted in Citrus Creek Plantation's rental pool program , operating  as a hotel – or Lodge – of cottages and villas. Long stay guests are welcome. Citrus Creek is the perfect place to spend a winter, to come write a book, to work from home in this pristine environment.
A different approach to Caribbean real estate. We call it "Barefoot Luxury" . Simple,  Sustainable, natural; An eco-lodge of cottages alongside a pristine river nestled into an food forest . We like to "SHARE" : Share – Hospitality – Agriculture – Real – Estate .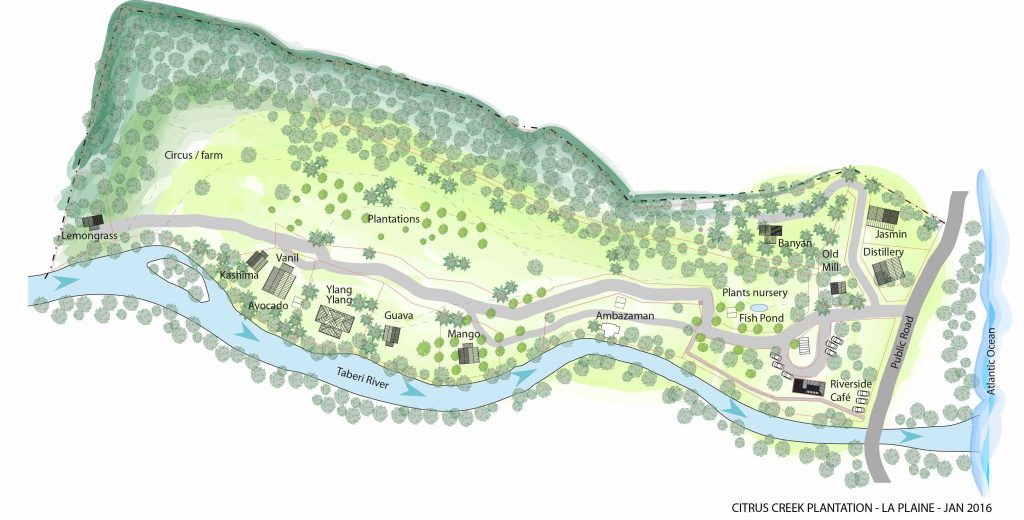 This historical estate used to be a banana plantation and a lime and citrus estate in the recent past. It had been a large sugar cane estate in the XVIII th century and still has old buildings and ruins. It was far before a famous settlement of native Kalinagos thus the name "Taberi" , meaning "common house" …
It is now divided in 3 separated areas:
1/ The Riverside - Read More
The Riverside : Along the Taberi river banks, this is where we have built cottages and villas, as well as the main stone building hosting the Riverside Café, offices and Manager's headquarters. Along close to 2000 feet of riverfront, the existing 7 cottages and villas are far away one to the other , allowing for total privacy and plenty garden space on close to 1/2 Acre each.
Some of these cottages and villas have been pre-built and furnished by Citrus Creek Plantation, and are operated in the eco-lodge ; these can be purchased .
One of these is a 1550 square feet , 2,5bedroom villa on ½ acre riverside lot. Ylang Ylang The other one is a 700 Square feet stone and wood cottage , on a ½ acre Riverside lot (Guava-Cherry) .
There are a few unbuilt lots remaining for sale too . From 20,000 Square feet to 5 acres !
This property is really unique for it allows for total seclusion on only 20 Acres bordering a river but is still with easy access to the main road through the entrance part of the estate, and has all utilities, High Speed wireless internet on site. Satellite internet backup . Full cell phone signal with high speed data . Complete solar back up system.
2/ The Main Valley - Read More
The main valley  extends between the internal access road, on the back of the cottages, and the lower level of the forested ridge . It is a wide , fertile and protected valley where we have been planting many different food crops ; from small vegetable gardens to large Mango trees , from herbs and medicinal plants to all sort of fruit trees, including hundreds of banana and plantains . This "food forest" follows the principle of organic agro forestry and is essential in our aim of "eating what we grow, and growing what we eat" .
What makes it very interesting is the approach we took : Following Anne's idea of staying organic and embracing "permaculture" concepts , we decided to plant both ways a lot of varieties of vegetables ; all are organic and absolutely no fertilizer is used , but we planted with our team some beds in the more traditional, Dominican way . This helps us, and them, to compare both yields, ease of operation, attraction… , and , last but not least , it protects the local community's culture . What they call the "That's how we accustomed".
There is as well , now, thanks to our close partnership with a young agro-entrepreneur from the closest hamlet of Case O' Gowrie, a new extension of this valley, further West along the Taberi river, where we are together raising  chickens, ducks, goats and cows . This is our new project with Marlon. All are and will be freely running and provide the best possible quality natural food for the Riverside Café .
3/ The Forested Ridge - Read More
This is the ultimate protection of the valley . The phase 2 of the development will be building some tree houses nestled in the forested ridge, hidden, with nice elevated mountain and sea view . Planned for ……. later !
While building these few stone tree houses, we will continue planting edible trees to replace wherever possible the existing ones. A long term shift. This is what a "food forest" is about. This is agro-forestry at its best. This is harmony with nature and the environment.

For Sale Now!! - Read More
All details on next page "properties for sale" : Here :https://citruscreekplantation.com/properties-for-sale/
One villa and one cottage have been built for sale. They are available now for sale, and are already successfully operated in the rental pool program.
Other cottages, villas, lots and lands for sale : Contact us to know more.
Lots and tracts from 1/2 acre to 15+ Acres . Inside or outside of Citrus Creek Plantation, but still in the same valley, and under Citrus Creek's management via the SHARE program.
Citrus Creek Plantation Eco Village - Read More
Space, plenty of space , 20 Acres of space between the Taberi river and the forested ridge … This is luxury..
The 20 Acres property borders the Taberi river along which many natural pools offer freshness and sits in front of the Bout Sable beach where giant sea turtles come each year to nest.
Citrus Creek Plantation is a completely sustainable operation: Stones and hardwood used for building come from the land and the Valley, water is catched both from the rain and a remote source in the mountains, with an incredible piping system all the way to Citrus Creek Plantation . Unique isn't it ?
Alternate energy is available with Solar panels  through our sister company Sustainable Earth Inc. (www.sustainableearth.dm).
Organic Restaurant (Riverside Café) and pool gazebo on premises. The future pool will use river water and will be built as a natural pool (shared surface of plants and swimming area) and will integrate huge river boulders.
A refuge where you can "eat what you grow, and grow what you eat," where electricity and water are your own production , and where you will feel really fine, relax and rest for real.
The 3rd phase planned for Citrus Creek Plantation will be the SHARE program, opening the wide Wayaneri valley (The one starting from the Unesco 3 pitons National park and including the taberi valley) . Large tracts of land offering total privacy to wide and comfortable sustainable villas will be developed under this program, while the large gardens will be planted with organic food.

S.H.A.R.E. Program
Citrus Creek Plantation is not a new Real estate development in the Caribbean. It is a new way of life where Agriculture, Hospitality, and Real estate are mixed for the mutual benefit of the foreign investor, the local community and farmers, as well as the developer.
This is the root of the SHARE program we have started.
SHARE for:
Share
Hospitality
Agriculture
Real
Estate
Why Dominica? - Read More
Dominica is know as "the nature island of the Caribbean" : What else ?
Dominica enjoys the friendliest people of the whole Caribbean. Don't ask why, we do not know why, but we can testify it is true!
Dominica offers prime Real Estate land on riverbanks at prices far, far below other islands prices. This volcanic island under the tropics has the most fertile land in the Caribbean . If you want to grow organic crops : There you are !
Dominica has a very clear and trouble free "registry" system and there are no stories of lands purchased and then titles disputed later. Once you buy a land here, the title is yours and no more worries.
In Dominica, there are no capital gains taxes, no inheritance taxes and no Real Estate taxes.
Finally, some of the major concerns and threat of the XXIst century are :
Health : Covid free after only 18 cases total. A pragmatic approach by Ministry for Health. Tests done .
Water : Lack of water on the planet.  Not here though !
Density of population. Not here !
Food availability : yes – Organic
Security: Terrorism threat ! Humm, not here
Well, you are welcome to come to see by yourself, and "share" with us in Dominica!
Some Maths & Conversions - Read More
(updated April 2009)
1 Hectare = 2,471 Acres
1 Acre = 43560 Square feet = 4046 M2
1 M2 = 10,76 square feet
1 € = 1,10 US$
1US$ = 2,67 EC$ (East Caribbean Dollar)